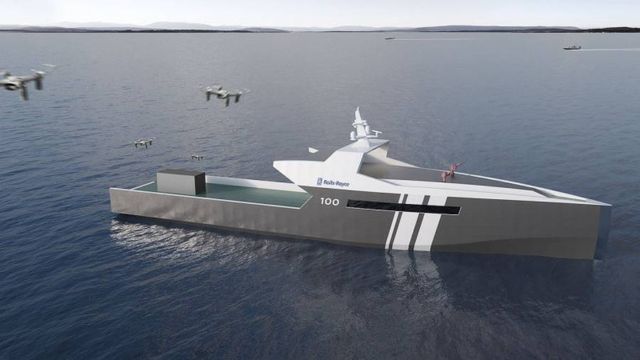 The 60m Rolls-Royce autonomous patrol ship could reach speeds above 25 knots.
The Rolls-Royce new patrol ship, capable of operating beyond the horizon for more than 100 days, with a range of 3,500 nautical miles, the vessel will displace 700 tonnes.
It could be used for coastal patrol and surveillance, logistics support, or as part of a fleet deployment, protecting conventional manned warships.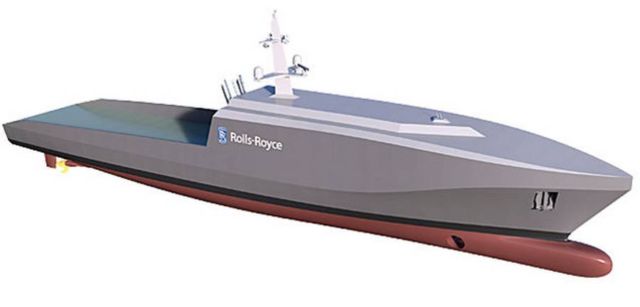 Benjamin Thorp, Rolls-Royce, General Manager Naval Electrics, Automation and Control, says:
"Rolls-Royce is seeing interest from major navies in autonomous, rather than remote-controlled, ships. Such ships offer navies a way to deliver increased operational capability, reduce the risk to crew and cut both operating and build costs."
With ever-increasing pressure on defense budgets, navies see unmanned technology as a route to reducing the through-life costs associated with crew. The removal of manpower from ships radically changes the ship design. Many of the habitation systems and accommodation compartments are removed, bringing immediate cost savings and making the vessel smaller. A suite of autonomous support tools, developed by Rolls-Royce, such as Energy Management, Equipment Health Monitoring and predictive and remote maintenance, will ensure the availability of unmanned vessels.
Images credit Rolls-Royce
source Rolls-Royce