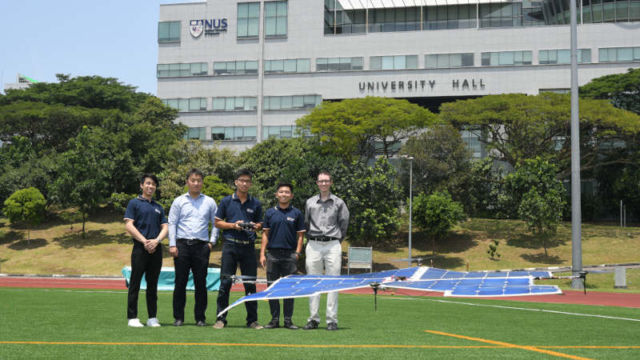 Scientists created a solar-powered quadcopter drone that can fly for hours.
A team from the National University of Singapore (NUS) has achieved a major step forward in stretching the capabilities of quadcopter drones by powering the flight solely by natural sunlight.
Controlled by remote control or programmed to fly autonomously using a GPS system incorporated into the aircraft, the aircraft can potentially be used as a 'flying solar panel' to provide emergency solar power to disaster areas, as well as for photography, small package delivery, surveillance and inspection.
Batteries can be incorporated to power the aircraft when there is no sunlight or for charging to take place during flight to enable operation when it is cloudy or dark. Other hardware such as cameras can also be included for specific applications.
Associate Professor Aaron Danner from the Department of Electrical and Computer Engineering at NUS Faculty of Engineering, who supervised the project, said:
"Our aircraft is extremely lightweight for its size, and it can fly as long as there is sunlight, even for hours. Unlike conventional quadcopter drones, our aircraft does not rely on on-board batteries and hence it is not limited by flight time. Its ability to land on any flat surface and fly out of the ground effect in a controlled way also makes it suitable for practical implementation."
source NUS