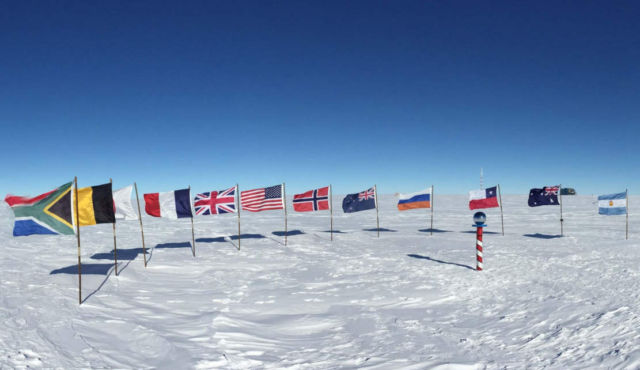 An international team of scientists, report the South Pole has warmed at over three times the global rate since 1989.
The team, including scientists from the Victoria University of Wellington, analysed weather station data and climate models to examine changes in temperature at the South Pole. Their findings suggest the warming has been driven by both natural climate variability and increases in greenhouse gases. They say their research can help inform future modelling of climate change over the Antarctic interior.
The South Pole has warmed at over three times the global rate since 1989, according to a paper published in Nature Climate Change. This warming period was mainly driven by natural tropical climate variability and was likely intensified by increases in greenhouse gases, the study suggests.
The Antarctic climate exhibits some of the largest ranges in temperature over the course of a year, with strong regional contrasts. Most of West Antarctica and the Antarctic Peninsula experienced warming and ice-sheet thinning during the late twentieth century. By contrast, the South Pole — located in the remote and high-altitude continental interior — cooled until the 1980s, but has since warmed substantially. These trends are affected by natural and anthropogenic climate change, but the individual contribution of each factor is not well understood.
Kyle Clem and colleagues analysed weather station data, gridded observations and climate models to examine the warming trend at the South Pole. Their study found that the strong warming over the Antarctic interior during the last 30 years was chiefly driven by the tropics—warm ocean temperatures in the western tropical Pacific Ocean—which has lowered atmospheric pressure over the Weddell Sea (high-latitude South Atlantic) and increased the delivery of warm air to the South Pole. The authors suggest these atmospheric changes along Antarctica's coast are an important mechanism driving extreme multi-decadal climate anomalies in its interior.
The authors argue that these warming trends were unlikely the result of natural climate change alone. The effects of anthropogenic warming on top of the large tropical climate signal in the Antarctic climate have likely worked in tandem to make this one of the strongest warming trends on Earth.
The research was published in the journal Nature Climate Change.