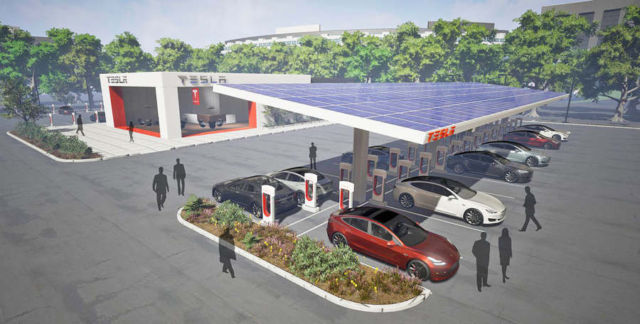 Tesla plans more travel refueling spots, by doubling its Supercharger network this year.
As Tesla prepares for our first mass-market vehicle and continues to increase our Model S and Model X fleet, we're making charging an even greater priority.
It is extremely important to us and our mission that charging is convenient, abundant, and reliable for all owners, current and future. In 2017, we'll be doubling the Tesla charging network, expanding existing sites so drivers never wait to charge, and broadening our charging locations within city centers.
As always, the most convenient way to charge is to plug in overnight where you park. However, to better serve the needs of owners who are traveling or those who don't have access to reliable home charging, we will continue to aggressively expand our public charging networks. Since we first energized the Supercharger network in 2012, Tesla has built over 5,400 Superchargers with the goal of enabling convenient long distance travel for more than 200,000 Tesla owners around the world. In parallel, we've built a network of more than 9,000 Destination Charging connectors that replicate the convenience of home charging by providing hotels, resorts, and restaurants with Tesla Wall Connectors. But we know that to truly advance electric vehicle adoption, we must continue investing in charging infrastructure.
source Tesla