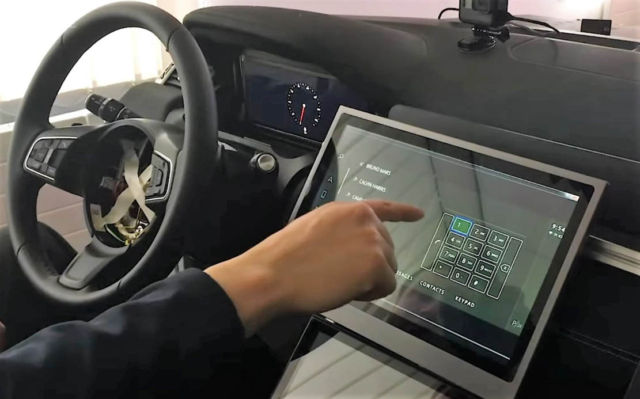 A 'no-touch touchscreen' developed for use in cars could also have widespread applications in a post-COVID-19 world, by reducing the risk of transmission of pathogens on surfaces.
Working with Jaguar Land Rover, Cambridge engineers have developed a screen that selects the correct item before the user's hand reaches the screen.
The patented technology, known as 'predictive touch', was developed by engineers at the University of Cambridge as part of a research collaboration with Jaguar Land Rover. It uses a combination of artificial intelligence and sensor technology to predict a user's intended target on touchscreens and other interactive displays or control panels, selecting the correct item before the user's hand reaches the display.
In lab-based tests, driving simulators and road-based trials, the predictive touch technology was able to reduce interaction effort and time by up to 50% due to its ability to predict the user's intended target with high accuracy early in the pointing task.
As lockdown restrictions around the world continue to ease, the researchers say the technology could also be useful in a post-COVID-19 world. Eliminating the need to actually touch a touchscreen or other interactive display could reduce the risk of spreading pathogens – such as the common cold, influenza or even coronavirus – from surfaces.
Professor Simon Godsill from Cambridge's Department of Engineering, who led the project, said:
"Touchscreens and other interactive displays are something most people use multiple times per day, but they can be difficult to use while in motion, whether that's driving a car or changing the music on your phone while you're running. We also know that certain pathogens can be transmitted via surfaces, so this technology could help reduce the risk for that type of transmission."
source University of Cambridge