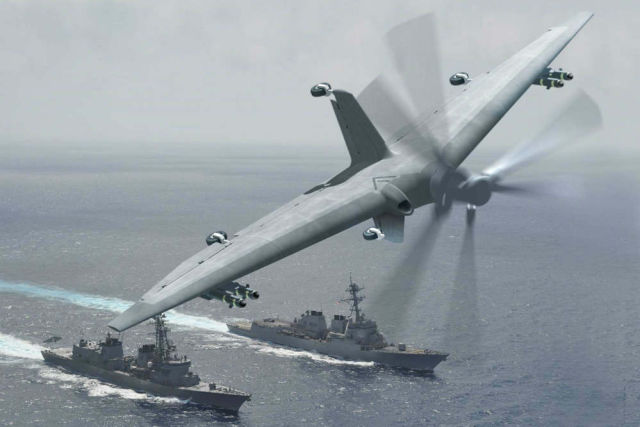 DARPA has been given $93 million to Northrop Grumman, to built an unmanned VTOL military drone that can land on small ships.
DARPA just announced a new program, that according to the press release: "could deliver embedded capabilities, that have been on the US Navy's wish list, since World War II."
Small-deck ships such as destroyers and frigates could greatly increase their effectiveness if they had their own unmanned air systems (UASs) to provide intelligence, surveillance and reconnaissance (ISR) and other capabilities at long range around the clock.
Current state-of-the-art UASs, however, lack the ability to take off and land from confined spaces in rough seas and achieve efficient long-duration flight. Tern, a joint program between DARPA and the U.S. Navy's Office of Naval Research (ONR), seeks to provide these and other previously unattainable capabilities. As part of Tern's ongoing progress toward that goal, DARPA has awarded Phase 3 of Tern to a team led by the Northrop Grumman Corporation.
Dan Patt, DARPA program manager, said:
"The design we have in mind for the Tern demonstrator could greatly increase the effectiveness of any host ship by augmenting awareness, reach and connectivity. We continue to make progress toward our goal to develop breakthrough technologies that would enable persistent ISR and strike capabilities almost anywhere in the world at a fraction of current deployment costs, time and effort."
Gil Graff, deputy program manager for Tern at ONR, explains:
"ONR's and DARPA's partnership on Tern continues to make rapid progress toward creating a new class of unmanned air system combining shipboard takeoff and landing capabilities, enhanced speed and endurance, and sophisticated supervised autonomy. If successful, Tern could open up exciting future capabilities for Navy small-deck surface combatants and U.S. Marine Corps air expeditionary operations."
Bradford Tousley, director of DARPA's Tactical Technology Office (TTO), which oversees Tern, said:
"Through Tern, we seek to develop and demonstrate key capabilities for enabling distributed, disaggregated U.S. naval architectures in the future. This joint DARPA-Navy effort is yet another example of how the Agency collaborates with intended transition partners to create potentially revolutionary capabilities for national security."
source DARPA