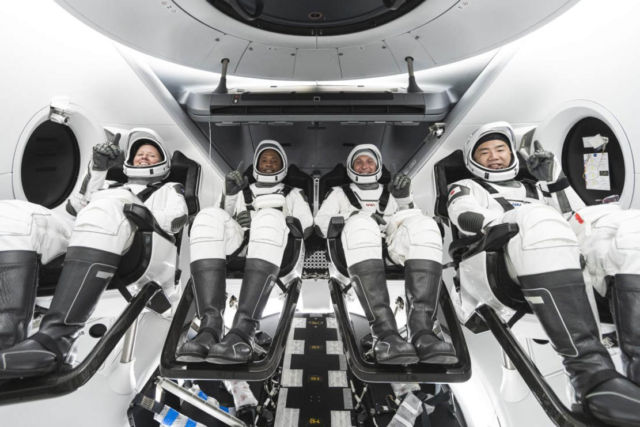 NASA and SpaceX are planning to send in two months, Crew Dragon Spacecraft for the second time to the Space Station.
NASA and SpaceX set date in late October for the first operational flight with astronauts of the Crew Dragon spacecraft and Falcon 9 rocket to the International Space Station as a part of the agency's Commercial Crew Program. NASA's SpaceX Crew-1 mission will be the first of regular rotational missions to the space station following completion of NASA certification.
NASA's SpaceX Crew-1 crew members are seen seated in the company's Crew Dragon spacecraft during crew equipment interface training. From left to right are NASA astronauts Shannon Walker, mission specialist; Victor Glover, pilot; and Mike Hopkins, Crew Dragon commander; and JAXA astronaut Soichi Noguchi, mission specialist. Photo credit: SpaceX
For almost 20 years, humans have continuously lived and worked aboard the International Space Station, advancing scientific knowledge and demonstrating new technologies that enable us to prepare for human exploration to the Moon and Mars.
source NASA