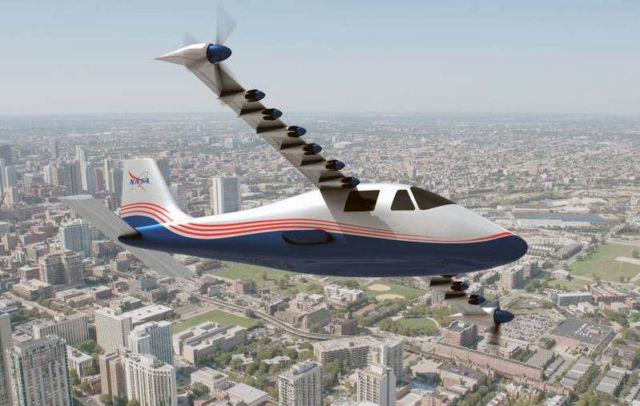 NASA is testing new propulsion technology, using an experimental airplane now designated the X-57 and nicknamed "Maxwell."
Maxwell new all-electric experimental X-Plane, features 14 electric motors turning propellers and all of them integrated into a uniquely-designed wing.
Above, an artist's concept of NASA's X-57 Maxwell aircraft, a new electric X-plane that is quieter, more efficient and more environmentally friendly. Credits: NASA Langley/Advanced Concepts Lab, AMA, Inc
NASA Administrator Charles Bolden highlighted the agency's first X-plane designation in a decade during his keynote speech Friday in Washington at the American Institute of Aeronautics and Astronautics (AIAA) annual Aviation and Aeronautics Forum and Exposition, commonly called Aviation 2016.
"With the return of piloted X-planes to NASA's research capabilities – which is a key part of our 10-year-long New Aviation Horizons initiative – the general aviation-sized X-57 will take the first step in opening a new era of aviation," Bolden said.
As many as five larger transport-scale X-planes also are planned as part of the initiative. Its goals – like the X-57 – include demonstrating advanced technologies to reduce fuel use, emissions and noise, and thus accelerate their introduction to the marketplace.
The X-57 number designation was assigned by the U.S. Air Force, which manages the history-making process, following a request from NASA. The first X-plane was the X-1, which in 1947 became the first airplane to fly faster than the speed of sound.
"Dozens of X-planes of all shapes, sizes and purposes have since followed – all of them contributing to our stature as the world's leader in aviation and space technology," said Jaiwon Shin, associate administrator for NASA's Aeronautics Research Mission Directorate. "Planes like the X-57, and the others to come, will help us maintain that role."
source NASA