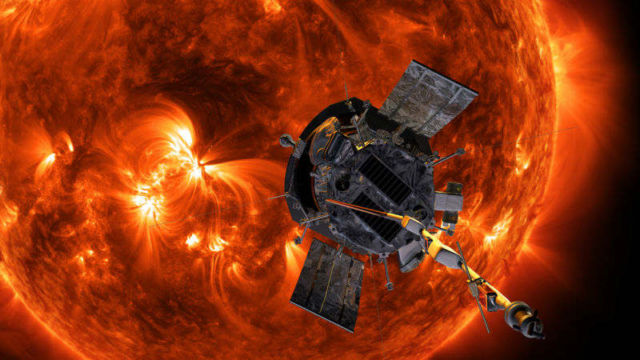 NASA's Parker Solar Probe has just made history by making the closest ever approach to the Sun by a human-made object.
NASA's Parker Solar Probe is now the closest object ever approach to the Sun, and also the fastest-ever human-made object, at a staggering speed of 153,454 mph.
The spacecraft passed the current record of 26.55 million miles from the Sun's surface on Oct. 29, 2018, at about 1:04 p.m. EDT, as calculated by the Parker Solar Probe team.
The previous record for closest solar approach was set by the German-American Helios 2 spacecraft in April 1976. As the Parker Solar Probe mission progresses, the spacecraft will repeatedly break its own records, with a final close approach of 3.83 million miles from the Sun's surface expected in 2024.
Project Manager Andy Driesman, from the Johns Hopkins Applied Physics Laboratory in Laurel, Maryland, said:
"It's been just 78 days since Parker Solar Probe launched, and we've now come closer to our star than any other spacecraft in history. It's a proud moment for the team, though we remain focused on our first solar encounter, which begins on Oct. 31."
Parker Solar Probe broke the record for fastest spacecraft traveling relative to the Sun on Oct. 29. The current record for heliocentric speed is 153,454 miles per hour, set by Helios 2 in April 1976.
source NASA