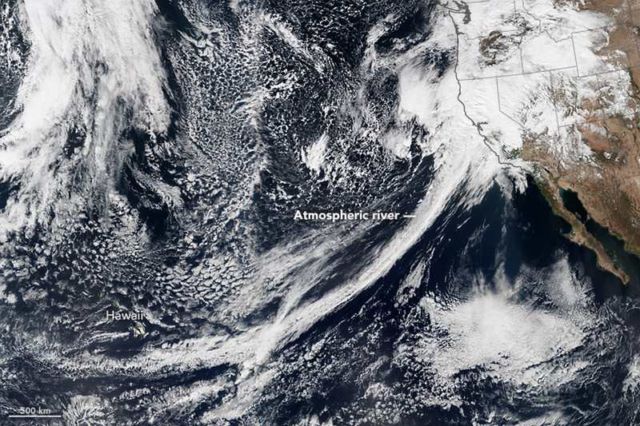 Yet another series of rare atmospheric rivers has drenched California, in a stunning turnaround from five years of drought.
Many parts of California have received nearly twice as much rain as normally falls in the first five months of a water year, which began on October 1.
Flood and landslide warnings are in effect in many counties, particularly in the Sacramento Valley, which is crossed by several rivers and sits downstream from several large reservoirs and dams. According to news reports, more than two dozen mud/debris flows have been reported across California, and at least 30 major roads have been flooded at various times in the past week. Spillways have been opened at the Anderson, Oroville, and Monticello dams, among others.
On February 20, 2017, the Visible Infrared Imaging Radiometer Suite (VIIRS) on Suomi NPP captured a natural-color image (above) of conditions over the northeastern Pacific. Note the tight arc of clouds stretching from Hawaii to California, a visible manifestation of the atmospheric river pouring moisture into western states.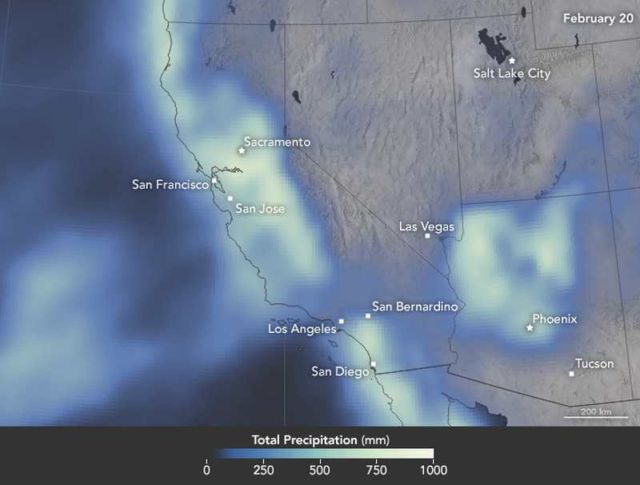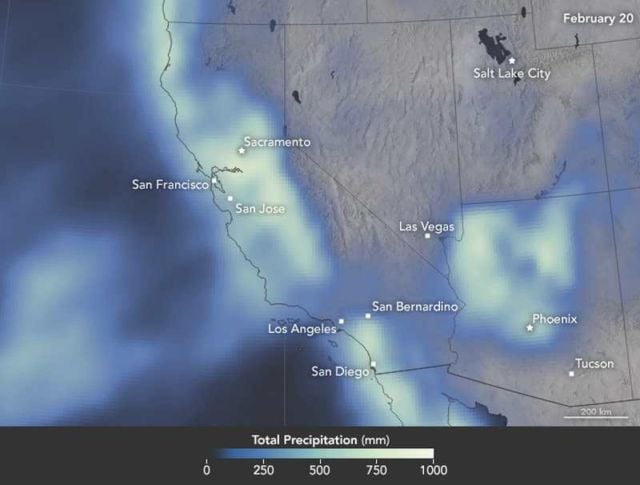 This map shows satellite-based measurements of rain, snow, and other wintry precipitation as it has accumulated over California, Nevada, Utah, and Arizona this year.
NASA Earth Observatory images by Jesse Allen and Joshua Stevens, using VIIRS data from the Suomi National Polar-orbiting Partnership and IMERG data provided courtesy of the Global Precipitation Mission (GPM) Science Team's Precipitation Processing System (PPS). Caption by Michael Carlowicz.
source earthobservatory