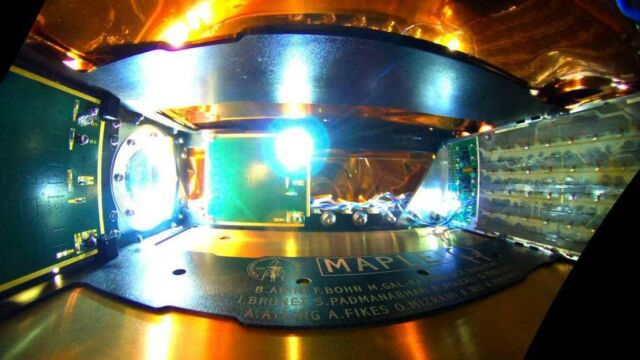 A space solar power prototype has demonstrated its ability to wirelessly transmit power in space and to beam detectable power to Earth for the first time.
Wireless power transfer was demonstrated by MAPLE, one of three key technologies being tested by the Space Solar Power Demonstrator (SSPD-1), the first space-borne prototype from Caltech's Space Solar Power Project (SSPP). SSPP aims to harvest solar power in space and transmit it to the Earth's surface.
MAPLE, short for Microwave Array for Power-transfer Low-orbit Experiment and one of the three key experiments within SSPD-1, consists of an array of flexible lightweight microwave power transmitters driven by custom electronic chips that were built using low-cost silicon technologies. It uses an array of transmitters to beam the energy to desired locations.
Dr. Ali Hajimiri, Caltech Bren Professor of Electrical Engineering and Medical Engineering and Co-Director of the Space-Based Solar Power Project, explains:
"Through the experiments we have run so far, we received confirmation that MAPLE can transmit power successfully to receivers in space. We have also been able to program the array to direct its energy toward Earth, which we detected here at Caltech. We had, of course, tested it on Earth, but now we know that it can survive the trip to space and operate there."
Image credit Caltech